The titans of the Facility Management fraternity came together on a single platform for a daylong DigiFM with the theme: Embracing and transforming Smart FM on the digital platform. We bring you selected excerpts from the first part of the conference:
Ralph Sunil, Group Head – Facility Management Services, GMR Group: Digital FM will replace all the primitive conservative methods with smart methods. It has many stakeholders: the last-mile staff, the person who is cleaning, the person who is servicing, the transport attendant, the courier person and others are the ones who are going to be benefited by digitalization. Digital FM makes you self-sufficient as an employee or as a service provider.
The group discussion on How FM Transformation through digitization is adding value to organization by Charu Thapar, Regional Director – Property & Asset Management-Asia Pacific, Head of Strategy & Platform, Head Emerging Markets – India, Indonesia, Thailand, Vietnam and Philippines, JLL: Technology is a great enabler in our country. Our country, which has the youngest and tech-savvy workforce, finds it easier to implement technology than most Western countries. About 60% of our workspaces have become mobile, our phones have become our offices. Workspaces have moved on from using technology just for managing, maintaining and budgeting; it has become an overarching need for delivering experiences to the end user. It is extremely important when our clients or end users are coming to our sites that they are enabled by technology. They are able to do everything on their phone, reducing their human interaction or errors.
Firstly, data is indisputable. Second, relevant data creates very strong strategies. Data is necessary for optimisation and it helps build better relationships with your customers, it strengthens your internal teams and it quantifies the purpose of the work that you do and that is what technology brings to the table and helps us deliver.
Making a presentation on Influencing employee experience, Pradeep Nenumal Lala, Managing Director & CEO, Embassy Services Pvt. Ltd said that data really impacts different levels of people in the industry in significant ways. From a vendor perspective and an owner perspective, it affects the leadership of an organisation because it helps the leaders make some analytical decisions with the credibility of numbers backing them. From a middle management level, the engineers and the managers realise how to manage asset lifecycles better, and also bring in benchmarking across the industry and various geographies, across the country and globally. From the lowest level of the workforce to the person who is actually analysing and capturing the data, it brings in less stress. Clients can actually measure deliverables of the vendors and also do a lot of risk management and compliances more easily.
We, as an owner driven organisation use data more selectively to manage our assets, bring in more of predictive maintenance and using customised tools.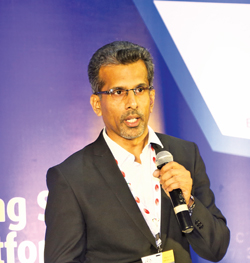 About Risk management factor, Pradeep Nenumal Lala said that risk from an asset perspective is very important because you have the right kind of data where you compare two different assets at different locations and you can identify the change in parameters or the readings that you get across your dashboards. This helps you to go from a preventive to a predictive mode. From the perspective of cost, we use certain technology of beacons in our services where we really do a time and motion study and bring in cost effectiveness by understanding how much time a janitor would need in a place; we can optimise the time and bring in more cost reduction.