Shashi Balain, MD and CEO at Shubhram Hospital Solutions Private Limited, shares his insights into hospital linen and laundry management
The breakout of COVID 19 pandemic has brought in focus the often ignored and ill-understood role that hospital linen plays in prevention of hospital acquired infections. The first question that every healthcare worker needs to ask and understand is the rationale behind the use of PPEs, specially designed uniforms for healthcare workers, the use of patient dresses, hospital specific bed-linen and specialised linen for use in OTs and Isolation wards. All expenses made by the hospital on hospital linen is definitely not for branding; the sole purpose is to ensure an effective infection control mechanism. The safety of its employees by ensuring they don't carry home any microbial load from the hospital back to their homes and that patients do not acquire any new infection from the hospital is the paramount responsibility of all hospitals. Effective hospital linen and laundry management practices and the fidelity with which they are implemented play a crucial role in ensuring that the hospital is able to achieve this crucial objective.
The genesis of Shubhram lies in "infection control" through its program of "Shubhram Clean Chain". The fundamentals of Shubhram Clean Chain are rather simple; but with high degree of process control, and thus higher implementation fidelity, it becomes extremely powerful and effective.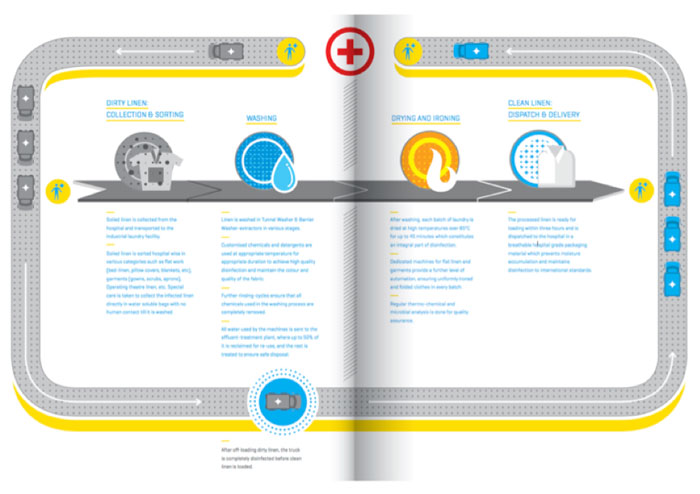 Shubhram maintains a 'Clean Chain': Robust systems and processes that ensure a functional and physical separation of 'clean' and 'dirty' areas throughout the process of collection, washing, and delivery. The Shubhram Clean Chain concept assumes even more significance in times of a Pandemic like COVID 19 as it brings back to focus how important it is to have more detailed protocols and regulations on how hospital linen needs to be handled from collection of soiled linen, to washing, to finishing, packing, and delivering it back to the hospital. Though most hospitals follow a very detailed protocol for sterilisation, the understanding of disinfection through laundry is still rather limited.
Protocol versus non-protocol based in-house laundry services: A Comparison of major input parameters
Consider the contrast between protocol based versus non-protocol-based hospital linen management. It's a bomb waiting to explode and we need to ask ourselves three questions:
1. Are we aware of and ready for the risks? Awareness issues.
2. Do we want to take the risk? We are aware but costs make one take the risks.
3. Is it worth it? A priority issue of where the money needs to be spent.