Model: SpeedQueen Quantum® Touch
Technical Specifications
• Tumble Dryers
• Model number SG055LVHPRXS4NC000
• 55lb (25 Kg)
• Quantum® Touch Control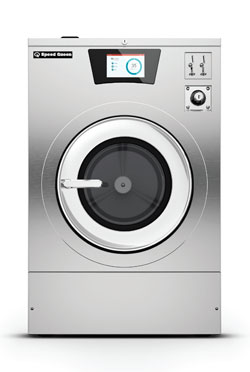 Features:
• SpeedQueen Quantum Touch display; easy to use and easy to understand directions with profitable cycle modifiers. 7", full colour, touch screen display on single tumble dryers. Chrome door ring.
• User-friendly screen with operating instruction built in as part of the control with 5 basic cycles (high, medium, low, delicate, no heat)
• Flexible pricing & additional revenue opportunities with customizable cycle modifiers, time-of-day pricing and lucky cycle options
• On-screen timer so your customers know exactly how much time their cycle will take.
• 30+ languages available; On-screen timer informs customers exactly how much time their cycle will take.
• Speed Cycle option for those who want to get in and out quickly. Fewer moving parts, for fewer maintenance issues
• Lint trap blends in with front panel for a sleek, modern look, innovative galvanized cylinder design with stainless steel back. Patented oval cylinder perforations prevents small metal objects from passing through and damaging the dryer's sweep sheets
• Axial Airflow provides the most concentrated and efficient drying possible to make dry times even faster, while saving you money.
Model: SpeedQueen Insights Ready (Tumble Dryer – SG055LVHPRXS4NC000)
Features:
Take your business to new levels of efficiency and profitability with advanced analytics and customer data – all integrated into the same platform with the rest of your business management tools. Know how often each customer visits, which machine they use, how they pay, and use that information to increase your revenue through stronger customer relationships and a more rewarding laundry experience.
| | |
| --- | --- |
| Specifications | |
| Control Option | Quantum Touch |
| Capacity – lb (kg) | 55 (25) |
| Overall Width – in (mm) | 34.5 (876) |
| Overall Depth – in (mm) | 53.1 (1349) |
| Overall Height – in (mm) | 66.7 (1694) |
| Cylinder Diameter – in (mm) | 33 (838) |
| Cylinder Depth – in (mm) | 35.0 (889) |
| Cylinder Volume – cu.ft (liters) | 17.3 (490) |
| Reversing Cylinder | Option |
| Door Opening Size – in (mm) | 26.9 (683) |
| Gas Models – Per Pocket | 112,000 Btu/hr |
| Air Outlet (mm) | 8 (200) |
| Motor – HP: Fan & Cylinder | 0.5 and 0.5 |
| Airflow – cfm | 700 |
| Electrical Specs – Amps: Gas | 200-240V/50/60/1/3 |
| Shipping Dimensions (mm) WxDxH | 35.5 (902) x 57 (1448) x 70.5 (1791) |
| Packed (with crate) Dimensions (mm) WxDxH | 37.0 (940) x 45.9 (1166) x 55.6 (1413) |
| Net Weight – Ib (kg) | 430 (195) |
| Shipping Weight – Lb (kg) | 470 (213) |
| Agency Approvals | CSA |