Creating a Benchmark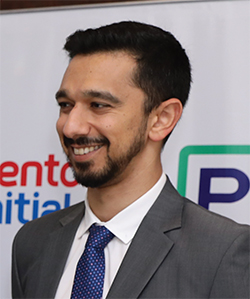 Executive Director Joshua Rao speaks about the coming together of Rentokil & PCI and the imminent acceleration of growth
How do you look forward to your joint participation in the Clean India show?
As the Rentokil & PCI have come together, it is important for us to showcase our combined brand and strength. We look to improve the benchmark in the industry through innovation, technology, and a combined expertise in pest management. The solutions that we will be able to provide as a combined entity will ultimately mean more advanced, world-class technologies to our varied customers. Instead of competing, it made perfect sense to join hands to support strong,
accelerated growth in India.
Which are the areas do you think you could bring about a difference under the new identity Rentokil-PCI?
Newer technologies, global expertise and management efficiencies. The joint venture will combine the strength of both the companies to be the leading provider of pest services, innovation and use of digital technologies. We want to capitalise on the surging demand to high quality and worldclass service.
Quoting Anil Rao, CEO & MD: "PCI is the only company in this service industry with in-house manufacturing capabilities and the unique ability to create sustainable products, better suited to a business driven increasingly by a global search for ecologically sensible solutions. This would certainly provide a great opportunity to accelerate growth and performance in India and across the region."
Rentokil
In 1924, a company called Disinfectants and General Products Ltd, established by Professor Maxwell-Lefroy created a timber treatment fluid that the company intended to name Entokil. This was later changed to Rentokil. Bessie Eades later bought the rights to Rentokil and established a new company, Rentokil (Sales) Ltd.
By the end of the 60s, Rentokil Group Ltd was listed on the London Stock Exchange with one of the largest new issues of shares that the city had ever seen.
In 1983, Rentokil received Queen's Award to Industry for Technological Achievement for developing a safe process for manufacturing arsenic-based timber treatment fluid. During the 1996 Atlanta Olympic Games, company executed the astounding takeover of BET for £2.2 billion – one of the largest takeovers in British corporate history, thus creating the world's leading business services company with an annual turnover over £3 billion and 150,000 employees. The new company was called Rentokil Initial.
Rentokil was selected as the preferred supplier of pest control services and products to the 2008 Beijing Olympics. During the 2014 World Cup in Brazil, Rentokil kept the main football stadium in Curitiba, training facilities, team hotels and transport hubs free of pests. Rentokil delivered a full pest control service, including mosquito control to the Rio Olympic and Paralympic Games.
PCI
Pest Control (India) Pvt. Ltd., was established in the year 1954 by N.S. Rao. PCI was then the only company of its kind in India, with fumigation as the core business. Services quickly expanded to termite control, rodent control and household disinfestation. N.S. Rao embarked on a quest to acquire pest control training worldwide. In 1960, he became a member of the National Pest Control Association. He visited the U.K. and trained at Rentokil, thus setting up the basis for a continued association.
Both these companies have a history of being pioneers and pathbreakers in the field of pest management. So, on February 28, 2017, the news that the global leader and India's leader had entered into an agreement to form a joint venture was welcomed by all.
While Rentokil Initial brings to the merger their global expertise in areas such as innovation, digital technologies and international standards. PCI is the only company in this service industry with foot print across India and the unique ability to create sustainable products that are better suited to a business driven increasingly by a global search for ecologically sensible solutions. The combined entity will be the largest provider of pest control services and products in India, operate from 300 plus locations and employ 7,500 people.