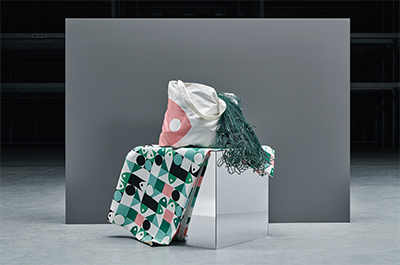 This autumn, the Musselblomma collection will hit IKEA stores in Italy and Spain. The collection is made of recycled plastic, including PET plastic waste caught in nets, partly collected by Spanish fishermen in the Mediterranean Sea. After collection, the plastic is collected in containers onshore in ports, and is then cleaned, sorted, mechanically recycled and together with recycled PET bottles made into yarn and fabric. For every kg of PET plastic waste that can be used to make the polyester fabric, another 9 kg of waste like other plastics, metal, rubber, glass and other materials is also taken out of the ocean.
The products – a bag, two cushion covers and a tablecloth – are designed by the Spanish designer Inma Bermúdez, with inspiration from the ocean. She has created a simple and modern pattern with circles, squares and triangles combined with a shape that resembles a fish. The colours in the collection are taken from the sea: different greens and turquoise combined with coral that brings light and happiness to the pattern.
In October 2018, IKEA became a member of NextWave, an initiative that engages private companies to integrate ocean-bound plastic into consumer products in a scalable manner. Earlier the same year, IKEA announced its commitment to removing all single-use plastic products by 2020 – as a step towards becoming a circular business by 2030.