Every touch-point of customer interface is a 'Branding Opportunity.' More and more corporates are realizing that for any business, employees are its biggest brands.
The case is very evident for consumer companies that have employees interact with customers like retail stores, hospitals etc. But even for B2B companies, the way employees behave, act and look, conveys a lot about values and best practices of the corporate brand that they work for.
Considering this change in the mindset, corporate leaders have started giving keen importance to what employees' wear – their uniform purchase, design and their maintenance … which is Laundry of course.
The important drivers behind increase in market size for 'Uniform Laundry Business':
• More MNCs in India who are conscious of their branding and don't mind spending that extra amount on good uniforms and laundry
• Uniforms becoming an important branding opportunity for companies in order to convey the image.
• Stricter health and safety regulations and compliance requirements for uniforms
• More companies going for certifications and compliances especially in case of exports, where these require the vendor to be complaint in terms of hygiene
• Stress on hygiene and contamination levels in uniforms for highly sensitive industries like food, pharma, healthcare, electronics etc
• Good uniforms make the employees and work environment look good and smart
Who are the main customer segments in this business?
The main industries that are the consumers of uniform laundry are as follows:
• Retail
• Hospitals and Healthcare
• Hotels
• Restaurants
• Food processing
• Pharmaceutical companies
• Electronics
• Engineering
• Automotive companies and ancillaries
From the customers perspective the uniform requirement is split into two parts :
• Sourcing of good quality uniforms
• Maintenance of the uniforms
Uniform management for customers:
From a business customer perspective there are three opportunities:
1. Supply of uniforms
2. Maintenance / Laundry of uniforms
3. Leasing of uniforms
Shift in Uniform Laundry to Uniform Management: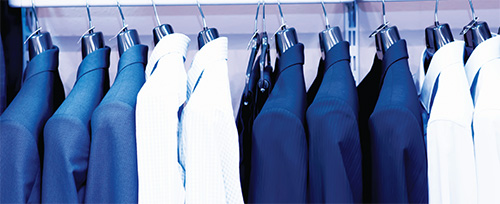 More and more companies in the west have moved or are moving towards what is known as 'Uniform Leasing or Uniforms Rentals model.' Globally Uniform Rentals and Line leasing is a very mature and organized industry where the entire ecosystem of purchase, finance support and logistics is easily available for the laundry service company to package all aspects together and offer it to the end customer.
In India, this started more than a decade ago with the arrival of Lindstrom – who are global leaders in the Uniform rentals business. As our sector has been highly unorganized and moving towards professionalism and affordability by customer the next 10 years is going to see a significant shift from just supply of uniforms or just laundry to a Leasing / Rental model of Uniform management.
Market size of Uniform Laundry business:
One of the significantly large and profitable business opportunities are going to emerge in the Uniform management for organized sector in India. Lets look at some data as below:
• Number of registered MSMEs in India – 20 lakhs approx.
• Factories registered – Two lakhs approx.
• Organized private manufacturing sector alone employs around 10 million employees
• Retail industry which is consumer facing employs about 40 million employees
These broad figures indicate the level of opportunity available for this sector. If you look at just the organized sector in manufacturing and retail alone and compute the figures, the market opportunity and potential for uniform laundry business possible is more than 2 Billion USD. This is being now self serviced or serviced by the unorganized sector and again we foresee this moving to Professional laundry service providers in the next 10 years.
What are the critical factors for success in Uniform management:
We are herewith listing down a few critical factors for success for Uniforms business from a client's perspective:
• Supply of right quality uniforms
• Hygienic wash
• Removal of stains especially in industries highly prone to stains like restaurant business
• Right pricing and affordability
• Quick turnaround of uniforms – means lower par and lower investment on capex
• Good service and communication with a professional approach
• Add on services
Business Experience in this sector: Now most of the industry is moving towards this trend, but we at Wassup laundry identified this opportunity three years back and handle Uniforms laundry and Uniform management for leading corporates, hotels and restaurants across the key cities we are operational. This is one of the most profitable and fast growing business segment for us and we feel will contribute more than 50% of our business.
Wassup is one of the pioneers in the new wave of professional laundry and dry cleaning brands that were launched in the last decade. We are a fully integrated player with an omni channel presence servicing requirements of both B2C and B2B clients across leading cities in India. We are growing through our own funds and franchisee network.