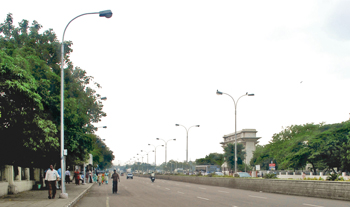 The conservancy of the streets in Madras was first attempted by Governor Streynsham Master (1678-81). In 1859, Sir Charles Trevelyan, the Governor of the Presidency, felt that the existing official Municipal Commissioners of Madras be speedily replaced by a Municipal Corporation consisting of representatives of people to deal with the urgent and vital problems connected with water supply, sewage and sanitation. But the schemes he suggested materialized only years later. Slowly and steadily, the City of Madras grew from a sandy strip to a metropolis, and its Municipal Corporation began to address in various ways, the challenges of its changing landscape and continually expanding limits, along with the exigencies of its burgeoning population. From about 27 sq miles in the early 1900s, the Madras that is now Chennai has grown to an area of 172 sq km with a population of 42,16,268 (according to the 2000 census), and the waste the city generates is a challenge that looms, always!
Process of cleaning
Chennai's metropolitan area, covers an extent of 1172 sq. km of which the Corporation extends over 172sq. km. CMA has a population of 7.05 million, out of which 4.22 million is within the City. There are 28 town panchayats, eight municipalities and one cantonment area within the metropolitan area and the responsibility of solid waste management rests with the local bodies concerned.
Within the purview of the Chennai Municipal Corporation (CMC), there are 10,614 streets with the total length of 2188km. The city has been divided into 10 administrative zones, 30 units and 155 wards. The waste is collected by street sweeping and kerbside collection and it is at present being dumped outside the city limits at Perungudi in the south and Kodungaiyur in the north which is spread over 200 acres each.
The profile of garbage is changing too. Organic waste was the major component, earlier. But with lifestyles changing and with the increase in technology and IT growth, the quantity of non-recyclable plastics, electronic and electrical items or e-waste is on the increase. But Rajesh Lakhoni, Corporation Commissioner, says: "We are now working to a new mantra – 'Waste is not waste unless wasted' – and are aiming at 100% recycling of waste. Chennai, which generates the highest waste per capita in the country at 677gm per day, has a huge organic waste burden, about 50-60 % of collected waste.
"However, available figures are based on backend calculations and our collection efficiency is much higher than other metros! We are targeting 100% door-to-door collection. Again there are two kinds of households – those who deposit waste in a bucket or bag at their doors and those who throw it on the road. About 2,100 tricycles, each targeting 200 houses and so, four lakh households. It is only the remaining 10% that does not make use of these that needs to be worked on!" Each tricycle handles about 1½ tonne, doing four trips each. Two 1,100 litre bins are placed in strategic positions in localities and are cleared by the compactors. The waste generated is therefore handled at different levels and at different points during the day. Garbage from bulk producers is collected at specific times.
"Also, we have allowed the tricycle worker to take away the recyclables, which is about 10% of the waste generated and he makes about र 100-150 everyday. At the present rate of dumping, our landfills will be exhausted in 10 years, then where can we go? Only segregation and reduction at source can provide answers. Our new Transfer Station, is the first of its kind in India based on a Singapore model. A technology that would be economical, not land intensive or have high-operational costs is the need of the hour. Composting, electricity from waste, sanitary landfills and conversion to dry fuel are some of the solutions suggested and we are considering all options!
"Regarding management of construction waste, specialised lorries are being commissioned and a र 500 per day fine imposed on offenders, besides removal charges. Besides, biomedical waste treatment facilities are provided outside Chennai. The Corporation has engaged an agency to train medical personnel across the City for biomedical waste segregation and removal.
"Effective movement of garbage collection vehicles is ensured by a GPS system that is already in place for the last eight months. Each Transfer Station has computerised weighing stations that help ensure that lorries carry optimum capacity of waste. Sanitary workers are being given specially designed NIFT uniforms. Attendance through biometric attendance in two zones is already functional and in other zones in the next two weeks! Petrol pilferage in lorries has been reduced by introducing Radio Frequency Identification Device in each lorry. I can actually sit in my office and check what goes on where! And through state-of-the-art logistics, we are trying to plug all loopholes in the existing system!"
Privatisation of Solid Waste Management
Garbage collection in Chennai was partially privatised by the Corporation on March 5, 2000, when CES Onyx, a subsidiary of the Onyx Asia Holdings, introduced its garbage collection and disposal initiative into the Chennai urbanscape. Onyx was removing around 1,000 tonnes of garbage everyday from its allotted three zones within the city. To serve 2.3 million people and over 500,000 households along an average length of 712km, over 2,038 employees were involved. However, the company was not responsible for any scientific management of waste.
But privatisation of solid waste management (SWM) activities, bristled with major hurdles such as resistance from the community for setting up solid waste treatment and disposal facilities, lack of appropriate space for setting up SWM facility, dearth of funds, and lack of technical know-how, according to a 2007 FICCI survey on Scope of Privatisation of Municipal Solid Waste in India.
Starting August 25, 2007, a seven-year contract has been awarded to Neel Metal Fanalca, a joint venture company between Neel Metal Products Ltd (JBM group) of India and Fanalca SA of Colombia, taking over four zones (Zones 6, 8 and 10 which were already privatised in 2000 and Zone 3). The total tonnage collected per day is 1,600 tonnes and the total number of employees, 2700.
The collection process includes:
Door-to-door collection of household garbage, normally carried out by the sweeper and transported in light vehicles. Garbage in small lanes will be deposited in 120 litres bins, and deposits in other areas where the heavy vehicle cannot access will be collected by the light vehicles.
Garbage arising out of sweeping roads including the sand, normally done by the sweeper and deposited in bins to be cleared by the compactors or in the light vehicles
Silt removed from storm water drains, is cleared by light vehicles.
Where there is accumulation of garbage, a HUKA bin facilitates the process.
Official sources say that the municipal solid waste is separated into organic, inorganic, recyclable and hazardous waste and the segregated waste is managed by the company.
Vehicles used for carrying garbage from area to transfer station include light vehicles (of two cubic metre capacity and can carry a capacity of one tonne garbage), heavy vehicle – compactors (of 12 cubic metre capacity that can carry an average of 7.5 tonnes of garbage) and HOOK lifters (in 10 and 15 cubic metre capacity and can carry an average of four and six tonnes of garbage), designed so as to lift the HUKA bin placed in areas where more garbage is generated and to place in the same area after unloading. Sub-contract vehicles are used to transport garbage from transfer station to the designated dumping grounds.